Southeast to Southeast!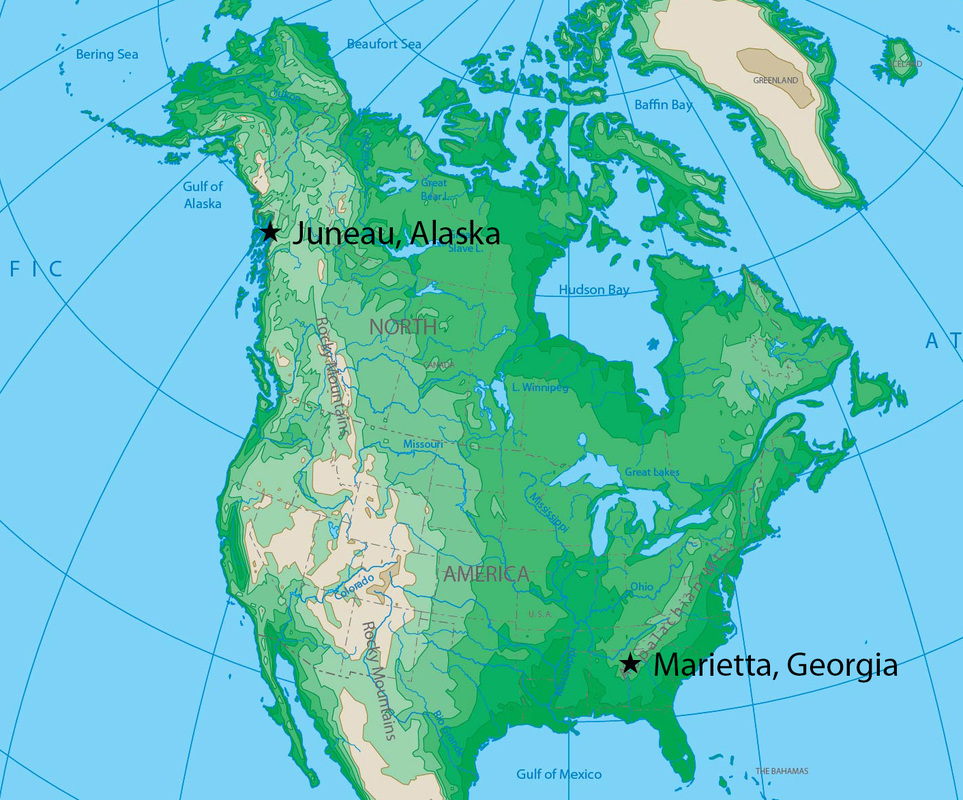 From early April through early October my home is Juneau, Alaska located in "the panhandle" of southeast Alaska (SEAK).
Here I am a Naturalist Guide for
Gastineau Guiding Company
where I take visitors from the cruise ships on exceptional shore excursions to the Mendenhall Glacier and whale watching in the waters of Stephen's Passage.
Marietta, Georgia has been my home since 1979, and now is my Lower 48 home from early October to early April.

If you are familiar with the several natural borders of Georgia and it surrounding states, they should be easy to see on this digital landform map. Only the 35th parallel on the north (which the legal description follows but the actual wanders around), the Florida border from Alabama to the St. John's River, and the northwest angle between Georgia and Alabama are "arbitrary" lines.

I've explored much of the natural world of the Southeastern United States, some of which appears on the Georgia page.

Contact me at

scott@scottranger.com
A note on my photography...
In addition to my ever present field notes book, my cameras are a primary note-taking tool as I'm terrible at drawings. All photographs on these pages are mine with a few by my wife, Annette Ranger, and a few others, where noted. My intent is to provide an illustration that is pleasing to the eye yet a good representation of the landscape or organism where it lives so that others might find it a bit easier to identify.

I am not a photographer. I'm a naturalist who uses a camera as a tool to record and remember. I have taken well over 100,000 photographs, and I almost always have a camera with me. This means that occasionally a photograph rises to something greater than a "record shot", but don't look for art in my photography here. If you find it, enjoy it. I am an opportunistic photographer: I take photos when I have the opportunity. I have more interest in the natural history than the photography and take pictures where I am, when I'm there. I don't have the time or inclination to plan to be at some location at the "golden hour" as I'm too busy observing nature. For this reason my photography is uneven. Since these are my notes, I feel fully justified to use my own photography. Criticize at your own peril.

If you click on any photo, a larger image will appear. It is all copyrighted work, but you are welcome to take and use any you might like as long as two conditions are met:

1) No commercial use is is allowed. This means any website used for profit is specifically disallowed from use.
2) Any photograph used must be fully attributed. You may simply use "Photograph by L. Scott Ranger, www.scottranger.com"
---
I've been studying the etymologies of the scientific names for all the creatures I've encountered in Alaska for my book and adding to them the creatures in the Southeast US as well. I just realized that one little creature, the Savannah Sparrow, Passerculus sandwichensis (Gmelin, 1789), and I share something in common. The common name comes from the location where ornithologist Alexander Wilson (1766–1813) encountered the bird in Savannah, Georgia. The specific epithet comes from naturalist Johann Friedrich Gmelin's (1748–1804) description of a bird from Sandwich Bay on Unalaska Island in Alaska. This illustrates how widespread the bird it and how I personally connect with it seeing it in both my homes.

The left photo is from Juneau, Alaska and the right from Atlanta, Georgia.

Mendenhall Glacier, Juneau, Alaska