Flora of Georgia and surrounding states
Granite Outcrop Plants
Helianthus porteri (A. Gray) Pruski 1998, Confederate daisy, Stone Mountain daisy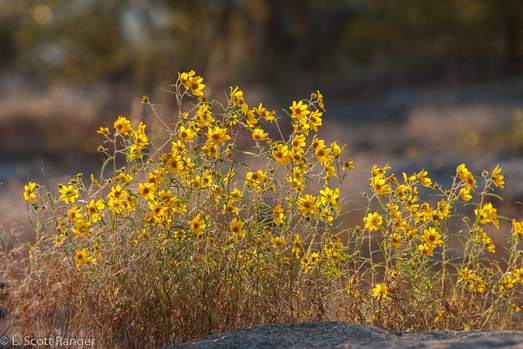 Every fall there is a yellow daisy festival at Stone Mountain—when this flower is usually in abundant glorious flower—where large numbers of Atlantans come to enjoy the sight.
Taxonomy
As the list of names below shows, this daisy has been considered to be allied with all sorts of members of the sunflower family. The
Flora of North America
makes this note:
"It is remarkably similar morphologically in its reduced habit, epappose cypselae, conic receptacles, and unlobed, mucronate pales to
Heliomeris
(
Viguiera
sect.
Heliomeris
), and it is treated under
Viguiera
in most southeastern United States treatments; its style appendages and chromosome number agree with molecular phylogenetic data in placing it within
Helianthus
." (To understand this, one needs a good botanical dictionary!)
This goes a long way to explaining the various names, but one sticks out. Why doesn't the earlier 1979 Heiser name have priority? Here we must look at the arcane rules of botanical nomenclature. It seems that when Charles Heiser determined the Confederate daisy was actually a sunflower, he failed to cite the page number of the original description by Asa Gray in 1849 when he published his findings in the Proceedings of the Indiana Academy of Science 99:371 His new name was ruled a
combinatio invalidum
. Pruski corrected this in 1998 and thus is the valid name.
Synonyms
Rudbeckia porteri
A. Gray 1849
Gymnolomia porteri
(A. Gray) A. Gray 1876
Heliomeris porteri
(A. Gray) Cockerell 1918
Viguiera porteri
(A. Gray) S.F. Blake 1918
Helianthus porteri
(A. Gray) Heiser 1979
Etymology
The genus name comes from the Greek ήλιος
helios
, sun, and ανθώ
ς
anthos
, flower; alluding to flower heads that follow the sun's transit across the sky. The epithet honors American botanist
Thomas Conrad Porter
(1822–1901)
The common name
daisy
is applied to many members of the sunflower family across some ten genera so this name isn't very defined. Since this flower is yellow, and most daisies are white,
yellow daisy
makes sense. Since it only grows in Georgia and Alabama, the heart of the Confederacy,
Confederate daisy
also makes sense. Since it is abundant at Stone Mountain, that also make sense. However it is abundant on nearly all the hard, flat, crystalline rock outcrops in the Piedmont of Georgia so to limit it to Stone Mountain seems provincial to me.
Status
No federal or state status.
NatureServe
status is G4 - Apparently Secure.
Distribution and Habitat
The
Biota of North America
has a county-level distribution map.
The
UNC Atlas
has a county-level distribution map.
This Piedmont endemic is found on the thin soils on and around flat rock granite and gneiss outcrops, especially in Georgia.
Weakley makes this note about North Carolina:
"It is well-established at two sites in NC, on Rocky Face Mountain (Alexander County, NC) and Mitchell Mill Flatrock (Wake County, NC), where it was introduced with soil blocks of
Diamorpha smallii
as part of a ecological experiment (Mellinger 1972; McCormick & Platt 1964); it is now aggressively weedy at these sites."
I have not found the plant on the flat rock outcrops of Kennesaw Mountain.
---
Description

Confederate daisy is an annual (completing its entire life cycle in less than a year), but it takes the opposite strategy of

elf-orpine

and

snorklewort

and is a summer annual. These very early leaves nearly cover this small solution pit on Arabia Mountain on March 20, 2013.

The seeds germinate as early as February, but usually later, and once they reach this stage with three to six whorls of leaves, they seem to take a break from growing and just sit there for a while. Perhaps they are storing up food for some dry periods that will undoubtedly come and make life difficult for the new plants and save their energy for the only purpose of an annual plant: flowering. That comes after the heat of summer.
Solution pits are the most common place to find a mass of Confederate daisy as there is just enough soil for them to thrive and just few enough perennial competitors that suck up the few nutrients available.

Most plants are made of a single stem, but since there are so many of them, they can form an impressive mass. Since each inflorescence head contains 30+ disc flowers, an impressive number of seeds can be formed in a good year. The viability of the seeds has never been tested (to my knowledge), but they must remain live for many years. There have been several periods of extended drought in my three decades in Georgia and during the worst dry years there are only a few plants that develop flowers. Yet when conditions are favorable, there is a veritable explosion of yellow daisies. This plant is well-adapted to the vagaries of the weather this harsh habitat throws at it.
| | |
| --- | --- |
| | Confederate daisy will take advantage of any place where there is enough soil (not much!) and moisture to grow. Here an exfoliating slab of Arabia migmatite creates a joint just large enough to capture both, and a line of plants takes advantage and grows. Some of these plants have multiple stems, a bit different from the strategy of the plant in a crowded solution pit. |