1447, Juneauite, her 2013 Calf, "Notcho"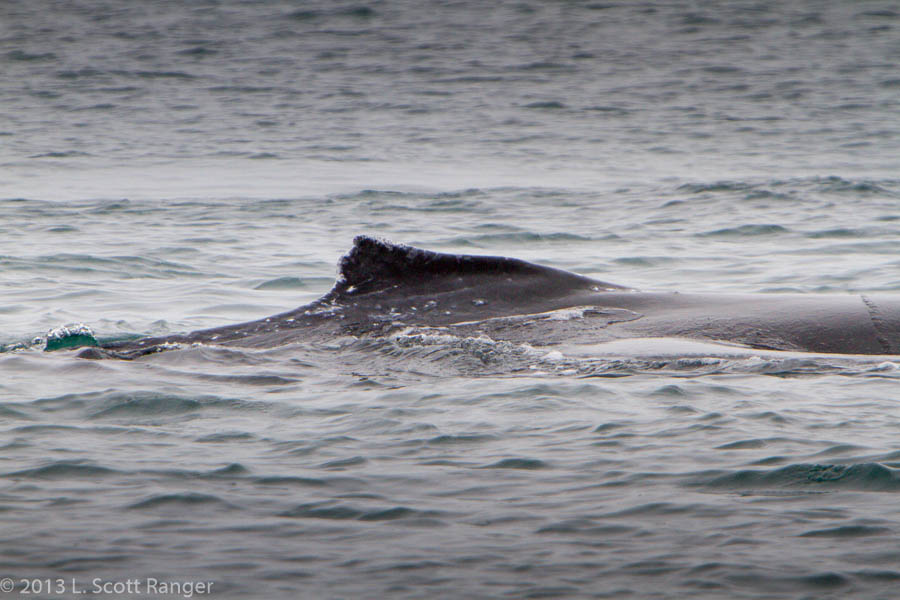 The first calf I was able to positively identify in 2013 is this one of Juneauite. It took a while to get any photos of the calf and its flukes have been particularly well hidden. The white markings along the dorsal fin appear to be whale lice, but it is too far away to be sure. This dorsal is distinctive enough to recognize with the little bit of notch on the trailing edge that makes Captain Jeff Worthen call it "Notcho". I took this photo on a very wet August 30, 2013.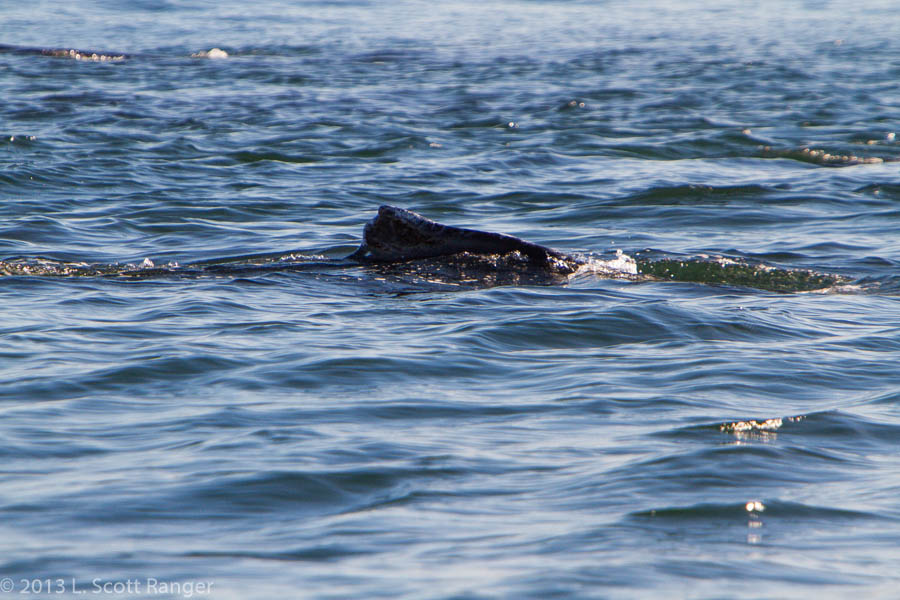 September 2, 2013 was back to that summer's glorious sunny weather and Juneauite's calf came quite close to the boat an showed off its "notched" dorsal fin.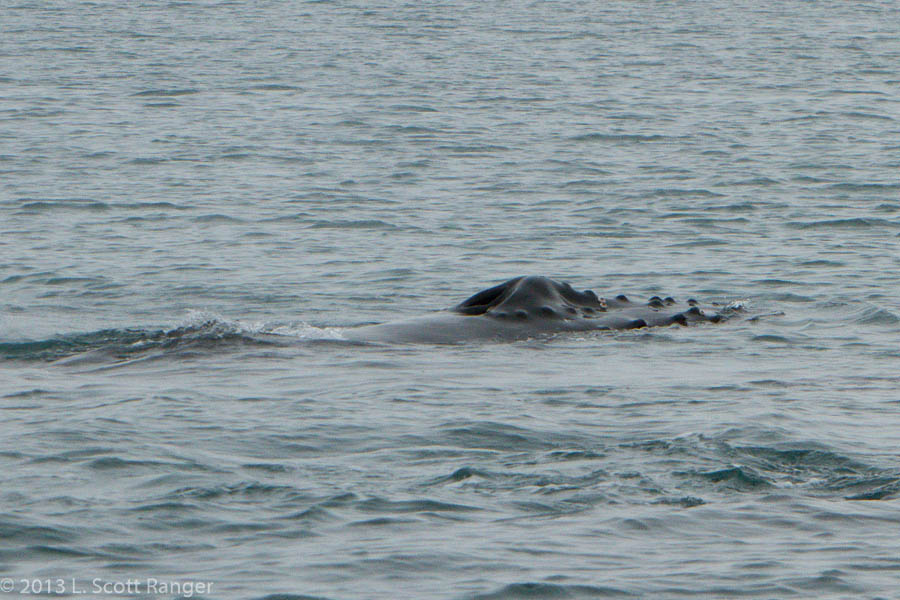 On the same day, the little one presented its rostrum to us several times allowing a good view of its tubercles. While that word simply refers to "bumps", those located on the rostrum are really an expanded hair follicle. Inside each is a single hair called a
vibrissa
(after all these are mammals, and mammals have hair). These probably serve as a sensory organ, perhaps to measure waves of water pressure from animals around them. Humans are almost unique amongst mammals in that we lack these sensory hairs. The word vibrissa comes from the Latin for "nostril hair". Think about a cat's whiskers and how they use them and we might have a clue about the humpback's use of them.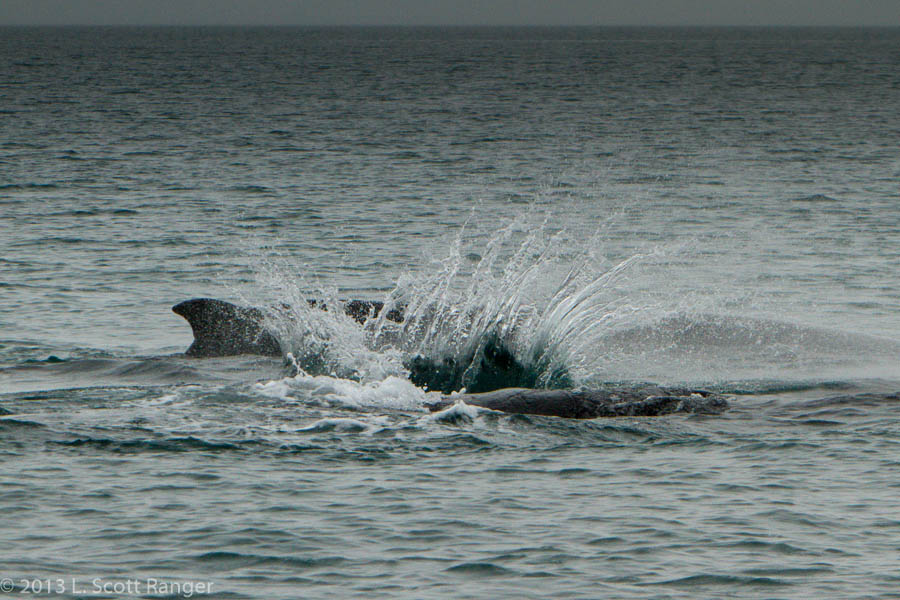 The young whale lifted its now rather lengthy pectoral fins out of the water several times, but I didn't have my camera handy. I only grabbed this shot of the splash right after the pec hit the water.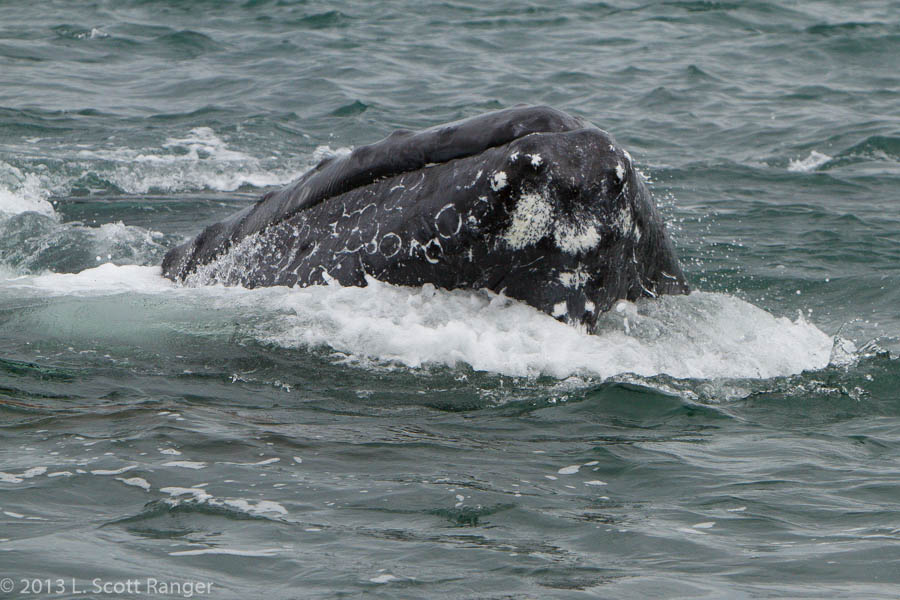 Four days earlier, a sunny one, the calf almost surfaced just a few yards from us exposing a good bit of its lower jaw. Here the scars of numerous barnacles that have already sloughed off show circular scars.