Flora of Georgia and surrounding states
Piedmont Plants
Pinus taeda Linnæus 1753, loblolly pine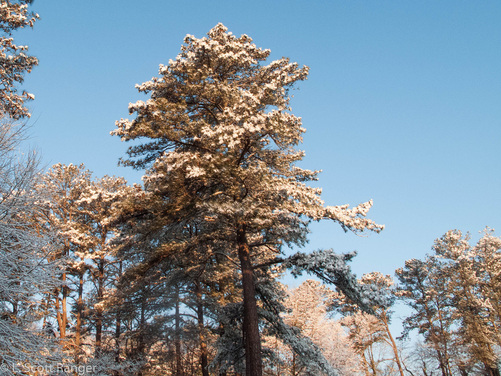 Loblolly pine is the ubiquitous plant of the Piedmont. It is very nearly a weed. It is the most abundant tree in my neighborhood—and yard—in Marietta. For this reason as I search my collection of photos, I have very few of this exceptionally abundant tree! In the Atlanta area they are being cut down by homeowners at an astonishing pace as they fear the tree falling on their house. Yet any disturbed land that sits vacant for two or three years will have a 3-foot tall carpet of loblolly pine saplings.
Taxonomy
This tree has always had but one name, but Linnæus makes no mention of why he chose
taeda
.
Etymology
The genus names comes directly from the Latin name for pines,
pinus
.
The epithet is directly from the Latin
taeda
, pine wood.
"
Loblolly
is a combination of
lob,
probably an onomatopoeia for the thick heavy bubbling of cooking porridge, and
lolly,
an old British dialect word for "broth, soup, or any other food boiled in a pot." Thus,
loblolly
originally denoted thick porridge or gruel, especially that eaten by sailors onboard ship. In the southern United States, the word is used to mean "a mudhole; a mire," a sense derived from an allusion to the consistency of porridge. The name
loblolly
has become associated with several varieties of trees as well, all of which favor wet bottomlands or swamps in the Gulf and South Atlantic states."
[The American Heritage® Dictionary of the English Language, Fourth Edition copyright ©2000 by Houghton Mifflin Company. Updated in 2009]
Status
As one of the most common trees in North America—in the top 10!—it has no federal or state status.
NatureServe
status is G5 - Secure.
Distribution & Habitat
The
Biota of North America
has a county-level distribution map.
The
UNC plant atlas
has a county-level distribution map.
The
UGA Atlas
has a county-level distribution map.
These maps illustrate how common species are overlooked by botanical collectors as Georgia has just a small portion of its counties recorded. The tree surely occurs in nearly
all 159 Georgia counties!
---
This map, hand-drawn on a county and state outline map of the United States by

Elbert L. Little, Jr, shows what he thought to be the native range of the loblolly pine.

Little, E.L., Jr. 1971.

Atlas of United States Trees, Volume 1: Conifers and Important Hardwoods

. U.S. Department of Agriculture, Forest Service, Washington, DC.

The most thorough treatment of it I know includes this comment: "it is dominant on about 11.7 million ha (29 million acres) and makes

up over one-half of the standing pine volume."

Burns, R.M. & B.H. Honkala, tech. coords. 1990. Silvics of North America: 1. Conifers; 2. Hardwoods. Agriculture Handbook 654.

U.S. Department of Agriculture, Forest Service, Washington, DC.