2070, Barnacles, her 2009 Calf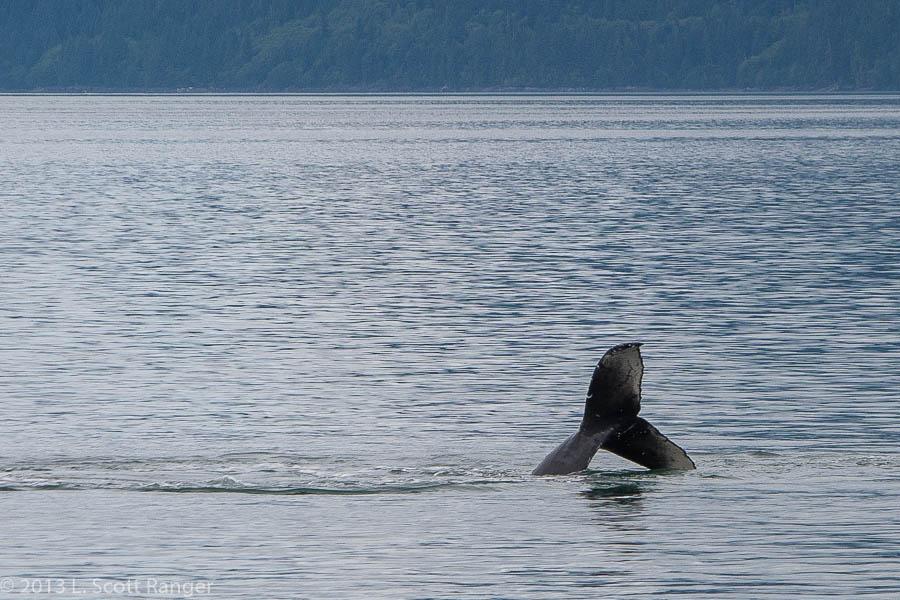 With my freshman year with Gastineau Guiding and humpback whales, I had a lot to learn in 2009. As I have time, I re-examine my photographs and am often astonished to discover what photographs I got that, at the time, I did not understand the significance of. This easily identified tail shot from September 6, 2009, turns out to be Barnacles baby! Now named 2070_calf_2009 by Suzie Teerlink, I need to scour all my fluke shots to see if I have any return shots of this little whale.
| | |
| --- | --- |
| | It's my day off, Sunday, and what do I do? Go for a whale watch! I'm taking my daughter Bess' "little sister" from Big Brothers-Big Sisters for a cruise on Allen Marine's St. Herman. As we head down Favorite Channel toward Auke Bay, we come by a frisky calf and Gastineau Guiding's boat Voyager. The captain decides to "park" the boat and watch the action. At this point, all I can tell is that it is a small whale. |
It doesn't take long for the calf to get "frisky". Here it begins a series of tail slaps, all done by slapping the dorsal (back) side of the tail on the surface of the water. This means the little fellow is doing the backstroke in the water and the black protrusion out of the water in front is its pectoral fin. Even here, the pattern on the right fluke makes the whale very identifiable.

It gets even better!
There is a young Steller's sea lion nearby, and the two "babies" begin to do what I can only describe as "play". The whale calf keeps doing the tail slaps and the sea lion gets closer and closer. At one point--where I'm simply watching and not even thinking about taking photographs--the whale lifts its flukes out of the water right under the young sea lion and the sea lion goes flying through the air! The sea lion swims right back to the whale and it happens again! Yes, this really did happen!

The photo on the left shows the whale at the beginning of a tail slap with the sea lion doing the backstroke away. The photo on the right show the whale swimming toward the sea lion while it dives in front. Click on the photo and you'll enjoy a large version where the whale's eye is eerily staring at us. This was one of my first utterly amazing experiences on the waters here.