Flora of Georgia and surrounding states
Granite Outcrop Plants
Quercus georgiana M.A. Curtis 1849, Georgia oak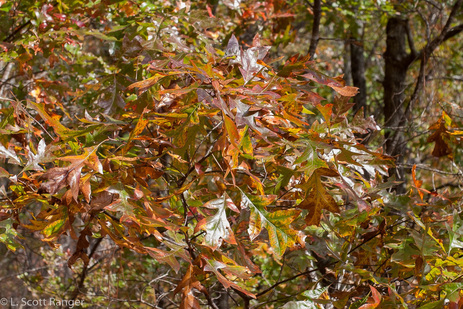 There are only a handful (13) of plants with Georgia in their epithet. We're sort of a sorry cousin to Virginia who has hundreds of plants named for the state. Anytime I come upon a "Georgia" plant I get a little bit of a thrill. Silly though it may be, since plants don't respect state lines, there is a bit of one-upsmanship and pride involved. So Georgia oak is good for double pride as the state is in both names!
Taxonomy
Georgia oak is a bit unusual in that it has always had only this one name! Episcopal rector from Massachusetts, Moses Ashley Curtis (1808-1872) embarked upon an Appalachian exploration in 1839 collecting specimens for John Torrey and Asa Gray. It was on this journey that he recognized a new oak.

Etymology
The genus comes unchanged directly from the Latin word for oak. The epithet is a Latinization of Georgia.
The common name is of obvious derivation.
Status
No federal or state status.
NatureServe
status is G3 - Vulnerable.
Distribution & Habitat
The
Biota of North America
has a county-level distribution map.
The
UNC plant atlas
has a county-level distribution map. Note the disjunct found in 2010 in North Carolina.
Georgia oak is primarily thought of as a granite outcrop tree, common along the deeper soil edges of the outcrops. Never a large tree, even where soil conditions are excellent, it is impressive with its rather uniquely shaped leaves that are coated with a very shiny cuticle layer that shows up in this early fall photo of small trees at
Arabia Mountain
.
Found on or near the majority of our larger (~5 acres +) outcrops, they are especially abundant along Centennial Olympic Parkway leading to the Georgia International Horse Park in Conyers, Rockdale County.
On the more open rocky slopes, they are also abundant along the ridge of
Pine Mountain
in Harris and Meriwether counties. Here the rock is not granite but late Proterozoic Hollis quartzite that creates a very similar habitat to the granite and gneiss outcrops.
---
Description

The

Flora of North America

has a detailed botanical description.

Oaks have male flowers arranged in catkins that hang from the smaller branches. A catkin is an inflorescence where the flower parts are greatly reduced, and with these Georgia oak male flowers, the only thing visible are the paired stamens that will produce the pollen.

The female flowers, also greatly reduced with only sepals and pistil, are singly arranged on young branches. They produce one of the most distinctive fruits of all plants, the instantly recognizable acorn.

The word catkin comes from the 1570's, from Dutch

katteken,

the diminutive of

katte

, for kitten. This meaning is lost on these Georgia oak catkins, but if one thinks of "pussy willow" the origin of the word makes sense.
Oaks are anemophilous [Greek ἄνεμος anemos, wind + φιλία philia, fondness, love] the technical word for wind-pollinated. With the vagaries of winds and their patterns of flow, plants that use this strategy must produce enormous amounts of pollen. This one little branch of Georgia oak contains about 1,000 pairs of anthers, each of which will produce about 100 pollen grains so it will fill the air with some 200,000 grains! Multiply that by the whole tree, and every tree around it, and the number is staggering. The chances that the singly arranged female flowers on nearby trees gets fertilized is very large.

Many oaks are closely related, having speciated in fairly recent geologic time. Anemophily results in indiscriminate pollen dissemination resulting in pollen from a closely related tree landing on the flower of another closely related tree. If close enough, fertilization will occur and a hybrid develops. In a sense, anemophilous plants "mess around" and can create a mess for systematic botanists to unravel and classify. The FNA includes this note in their treatment of the genus Quercus: "An astounding number of hybrid combinations have been reported in the literature, and many of these have been given species names, either before or after their hybrid status was known."