2070, Barnacles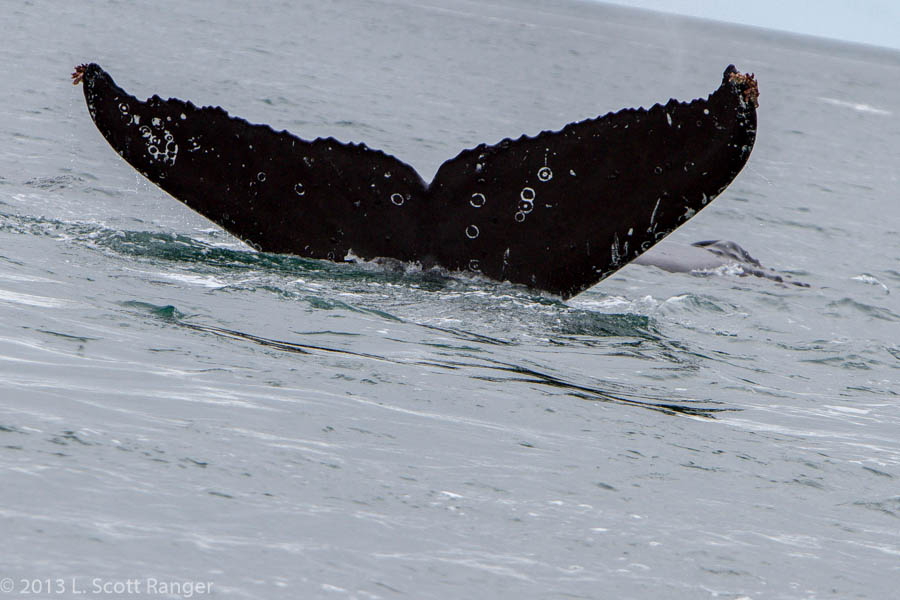 Barnacles can be counted on as a regular in our waters every year. First cataloged in 2007, she's been seen every year since and I've seen her every summer that I've been here. I have more photos of her than any other whale here!

Easily recognized, she has an all black tail with a number of perfectly circular white scars. The pattern on her right fluke reminds me of the Southern Cross constellation that is seen on the flag of Australia (and numerous other southern hemisphere nations).

Conventional wisdom says these are from the location where a barnacle was attached, but I remain skeptical about this as we know very little about the life cycle of these barnacles, plus, I've never seen a barnacle on the ventral side of a humpback's fluke. This same wisdom says the barnacle has a single year life cycle and falls off when the whale returns to warm tropical waters. However Barnacles got her scars, they give her a name.
While the ventral (under) side of flukes is the most commonly used character set for identification of humpback whales, other parts of their anatomy can be distinct enough for identification. Among those most easily seen are the dorsal fins. Among the blocky fins, the differences are subtle and require a good look, or much better, a photograph.

Barnacles' dorsal is pretty representative of full adult whales with a rather blocky and squared-off form, lacking any sort of backward sweeping point. The small white scars are unique and can be used as well. Barnacles has a distinct ridge line anterior (toward the head) of the dorsal fin as well.
| | |
| --- | --- |
| | I suppose if one were extremely observant, each whale's blowhole is unique. While I haven't reached that point of sophistication, I really enjoy close views of the blowholes, especially if the angle allows me to see the valves open or close. This view doesn't as Barnacles just spouted and is inhaling just before slipping beneath the surface. She's mighty close to us here on August 18, 2012. |
Barnacles is a very entertaining whale and usually does much more than simply cruising by and high tail diving. Here she's doing the backstroke and lifting her long pectoral fins far out of the water.

Note that barnacles encrust some of the forward protuberances of her fins but none are on the flat or trailing surfaces. There are lots of circular scars on the back side of her flukes, and something must explain them. If it is barnacles, why do I not have a single photo of a whale with them in this place on the whale?
Click on any of the photos for a larger version.
Pectoral slapping
(or flippering) is a fairly common behavior of young calves when they arrive in May and continue through early summer. It is much less common with the adults, but Barnacles is prone to frisky behavior later in the summer and early fall. This series of pectoral slaps was taken on September 18, 2010 in the waters of northern Stephens Passage on the "back" side of Douglas Island. Why do the whales do this? As with most of their behavior, it is very difficult to determine and all explanations I think must be taken as sheer guesses. The
Whale Trust
from Maui says "
It has been suggested that flippering may attract other whales to join a group and/or be a way that females may roll away from or toward male attention". In Alaskan waters, the whales don't exhibit any sexual behavior; they're simply here to eat. Perhaps after a summer of satiation, they take some moments to do something else. Whatever the reason, it is fun to watch!
Tail slapping (or tail lob) is another behavior we see in frisky babies. On June 20, 2012 Barnacles does a multitude of tail slaps in North Pass on a glorious sunny day (rare here!). In this sequence, she's doing it in the least common way, with the dorsal (top) side of the fluke being slapped onto the surface of the water. This means she's almost upside down in the water. I took four sets of photos of her tail slaps this day and three of them are in this "backward" manner.
For her last set of tail slaps for the day, she chose to do it in the "normal" way, with the ventral (bottom) side of the flukes being slapped onto the water surface.